Lotus Temple in New Delhi - India Trip
It is a bit strange that I planned to visit New Delhi at the end of our trip, and there were only 2 places that I wanted to have a look in New Delhi. They are Lotus Temple and Akshardham Temple. In the morning we need to fly from Amritsar to New Delhi, and visit these 2 temples in the afternoon and evening. At the Amritsar airport, we were really worried that how long our flight would be delayed, since it was very foggy, we barely could see anything 10 meters away. While we were waiting at the airport, we saw a guy was massaged by 5 guys, even his feet got massaged. I took some pictures of him with my phone, and I saw him smiled at me proudly when he noticed that I was taking pictures of him. Once we got on the airplane, a guy sitting besides my mom told us the guy is a very famous Sufi singer (religion singer) in India, and he is one of the "Wadali brothers".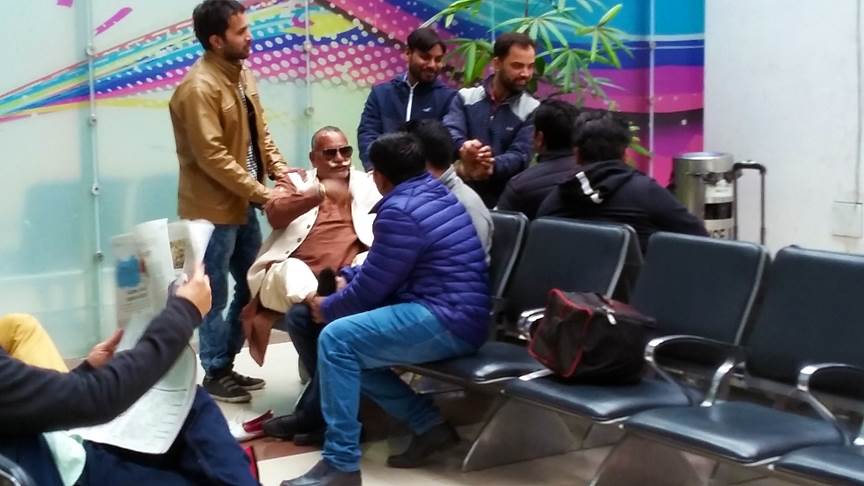 Our first stop in New Delhi was to visit the AG Tours travel agency, because the director insisted us to do so, and their office is not far away from the Lotus Temple. We heard the director is still single, so some girls imaged that we will meet a tall dark and handsome guy, but the reality was he might be tall dark and handsome, but he is for sure older. I guess the reason the director wanted to meet with us might be it is an Indian tradition? Or He wanted to apology for the car accident? Or He wanted to take a picture of us foreigners so it is good advertisement for his business? I suggested him list his business on TripsAdvisor, and he said they were looking into it, which I felt untrue.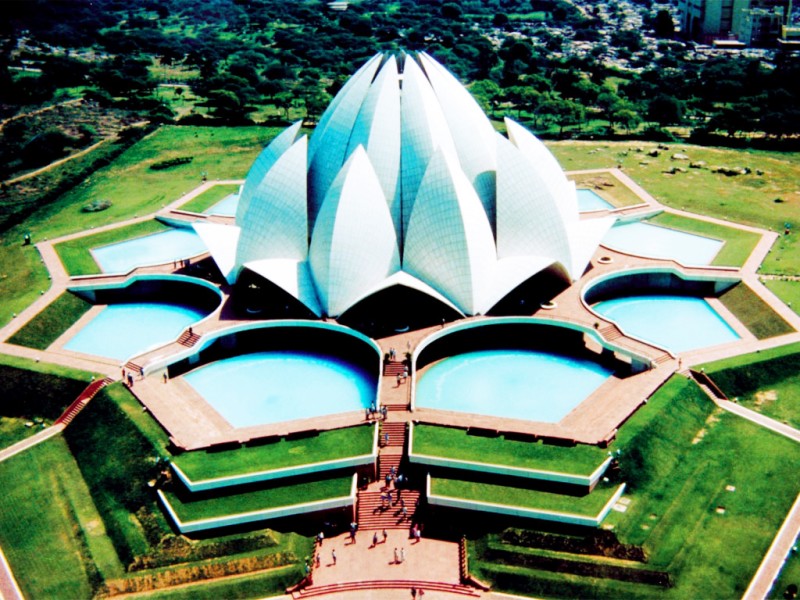 The Lotus Temple, located in Delhi, India, is a Bahá'í House of Worship that was dedicated in December 1986, costing $10 million. Notable for its flowerlike shape, it has become a prominent attraction in the city. Like all Bahá'í Houses of Worship, the Lotus Temple is open to all, regardless of religion or any other qualification. The building is composed of 27 free-standing marble-clad "petals" arranged in clusters of three to form nine sides, with nine doors opening onto a central hall with a height of slightly over 40 metres and a capacity of 2,500 people. The Lotus Temple has won numerous architectural awards and has been featured in many newspaper and magazine articles. The Lotus Temple was designed by Fariborz Sahba, a Canadian citizen, who was born in 1948 in Iran. He worked for 10 years as the architect and project manager for the Lotus Temple project.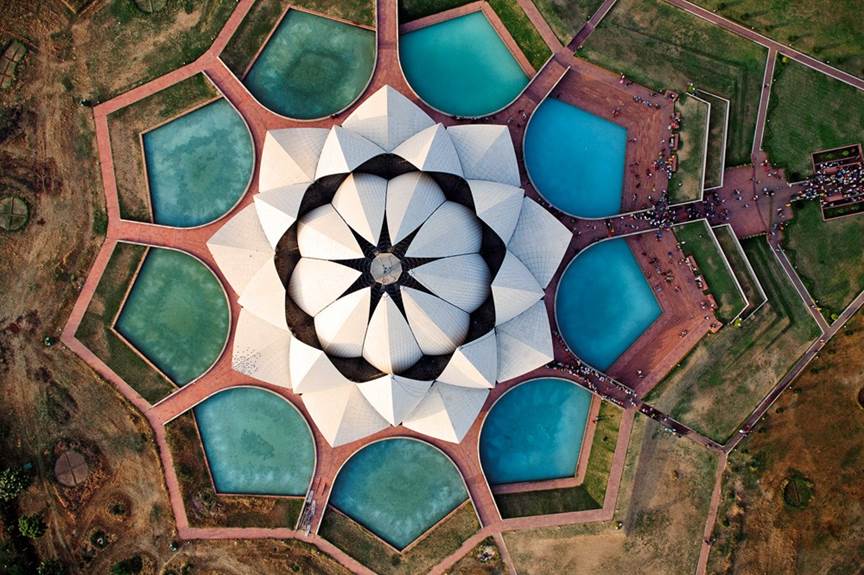 To visit the Lotus temple it is free, but once you reach the pool area, you have to remove shoes and you can no longer take pictures. Only Water went inside, and we 3 stayed outside for pictures. The air pollution was strong on that day when we visited the Lotus temple, so pictures were no good. The pictures you seen here are from the internet. For a visit of Lotus temple, you will need 1 hour to 1 hour and half to include a visit of inside.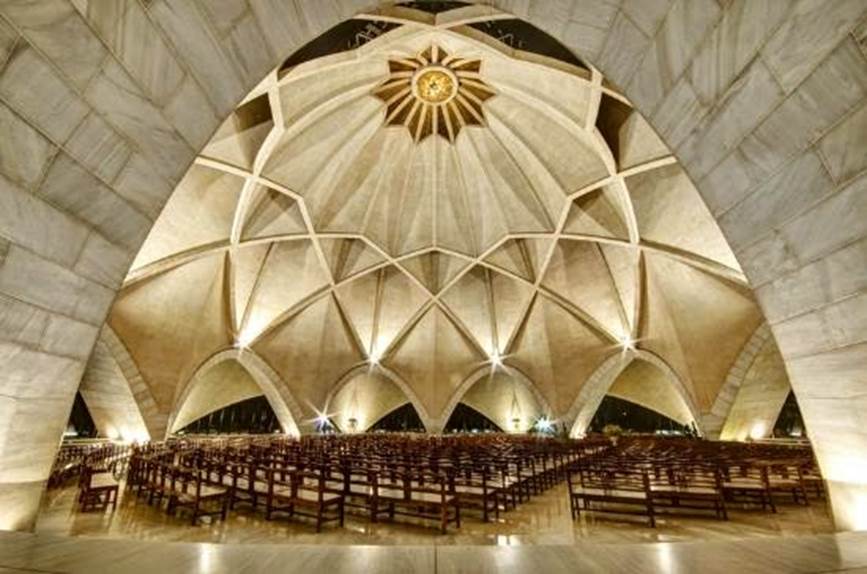 Our next stop of New Delhi was the Akshardham Temple. According to Google map, the drive from Lotus Temple to the Akshardham Temple should be less than 30 min, but we spent more than 1 hour to get to the Akshardham Temple. Akshardham Temple is the 3rd largest Hindu temple in the world. The largest one is Angkor Wat in Cambodia.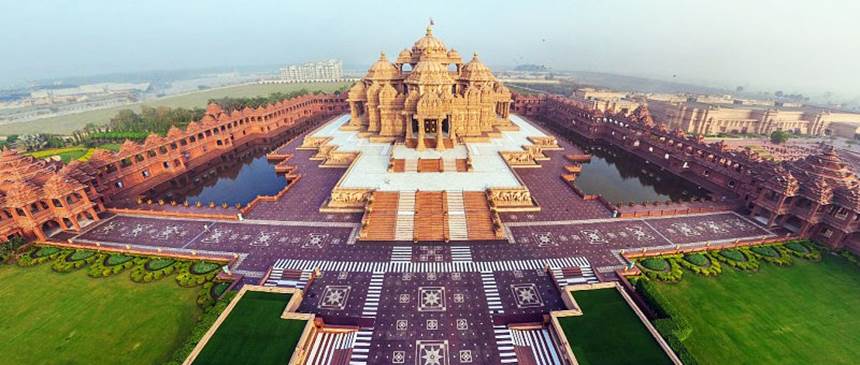 We tried 3 times to get inside the Akshardham Temple complex, why? The first time we learned that camera and cell phones are not allowed in the comlex, so we returned to put these stuff in the car. The second time we learned that backpack or any bigger bags are not allowed, so we returned to the car again to drop the bags. The 3rd time we finally got in. Actually, umbrella, food are not allowed neither, also your shoulders and legs need to be covered. Don't think you can sneak in any cell phone or camera, because even you can pass entrance, but you sill need to pass security later, and at security check they will pat you down and search your small bags and even you pocket.
'Akshardham' means the divine abode of God. It is hailed as an eternal place of devotion, purity and peace. Swaminarayan Akshardham at New Delhi is a Mandir – an abode of God, a Hindu house of worship, and a spiritual and cultural campus dedicated to devotion, learning and harmony. Timeless Hindu spiritual messages, vibrant devotional traditions and ancient architecture all are echoed in its art and architecture. The the main temple /mandir is a humble tribute to Bhagwan Swaminarayan (1781- 1830), the avatars, devas and great sages of Hinduism. The traditionally-styled complex was inaugurated on 6 November 2005 with the blessings of HH Pramukh Swami Maharaj and through the devoted efforts of over 8,000 skilled artisans and volunteers from across the world. Total more than 300,000,000 volunteer hours went into making the complex.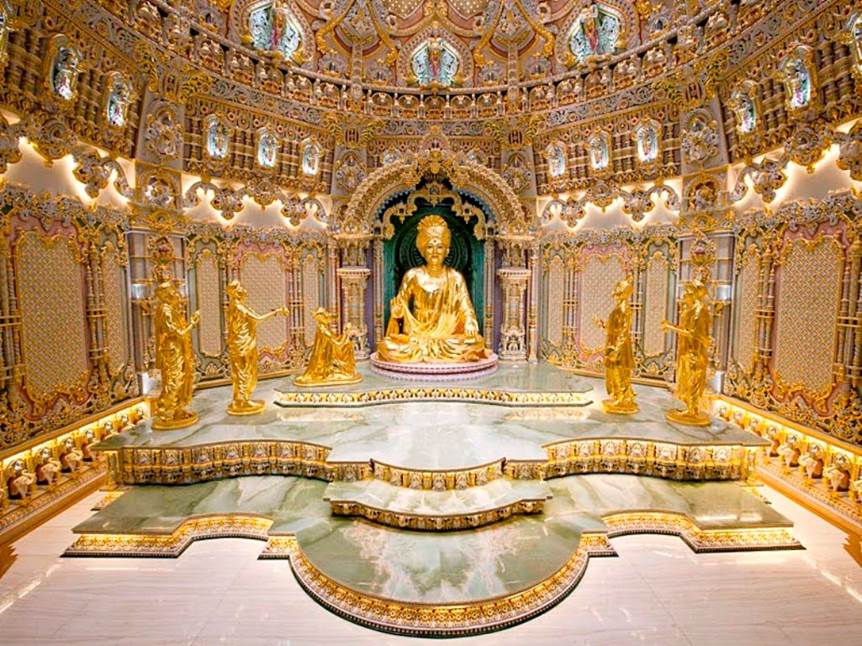 The heart of the Swaminarayan Akshardham complex is the Akshardham mandir. The Akshardham mandir consists of 234 intricately carved pillars, 9 ornate domes, 20 quadrangled spires and 20,000 statues of India's Hinduism's spiritual personalities. Inside the mandir, each worshipfully carved pillar, ceiling and dome shares a story of devotion, offers darshan of a deity, or captures an incident from the life of Bhagwan Swaminarayan. When you enter the inside of the mandir, you need to remove your shoes. It was amazingly gorgeous inside, the pillars, the ceilings, everything just looked unbelievably beautiful with a lot of details.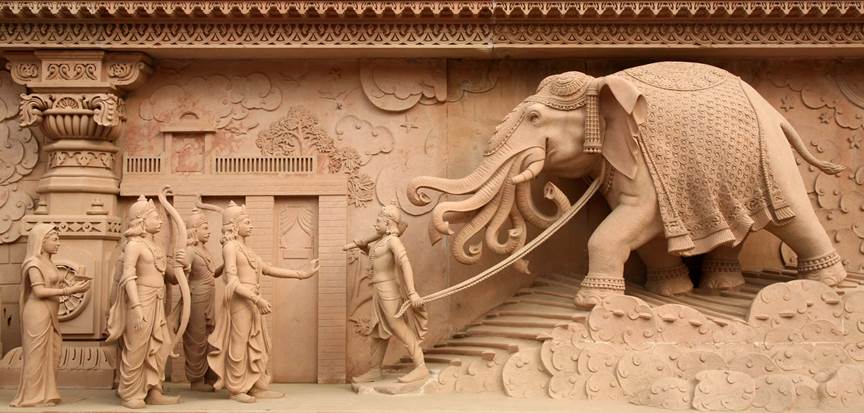 Outside the mandir / main temple, you need to circle the mandir clockwise 3 times since there are 3 layers of carvings for you to see. The external facade of a traditional stone temple is known as a mandovar. The base of the mandovar is called the jagati. In this layer, one finds carvings of living beings from our everyday world. First, we have the elephant which is a symbol of strength, then the lion, which symbolizes bravery and ferocity. Thereafter, one finds the vyal (a Pauranic animal) that was renowned for speed. In the subsequent layers, one finds carvings of flowers that stand for beauty and fragrance. In the middle of the mandovar, known as vibhuti, are sculptures of the avatars, sages, devas, acharyas and devotees. And on top within this layer are the samarans that exhort people to strive for spiritual height in life. The entire mandovar inspires an individual to liberate his life from the shackles of mundane pleasures and ascend to the ultimate state of God-realization.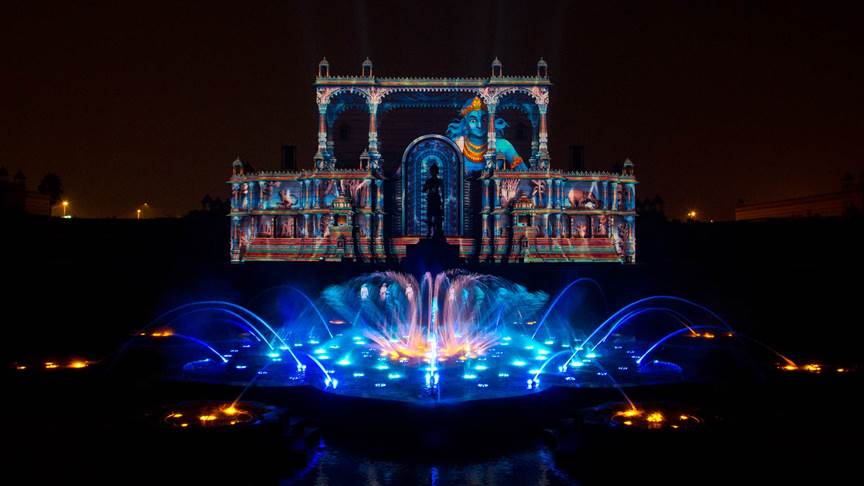 Enter to the Akshardham complex and the Akshardham mandir are free, there are only 2 things you need to pay, water show and exhibitions. You can buy combo tickets for 250 INR per person (60+ senior for 205 INR), or if you only want to see the water show then it is 80 INR per person. The Sahaj Anand Water Show is a breathtaking 24-minute presentation which unites a variety of intriguing media to bring to life a story from the Kena Upanishad. Multi-color lasers, video projections, underwater flames, water jets and surround sound in symphony with lights and live actors produce a captivating and inspiring presentation. International experts contributed their expertise with BAPS volunteers and sadhus to produce this one-of-a-kind presentation. The water show happens twice after sunset, each day has a different time schedule as per the sunset time. We saw the water show at 6:15pm, Hindu only. I heard sometimes English version was also provided, but not on the day we visited. However, we didn't have any trouble to understand the story of the water show. There was another show in 7:15pm.

The waster show and exhibitions are all on the right-hand side of the main temple /mandir. The exhibitions are displayed in three large halls, each with a unique display style. A source of education, information and inspiration, they are a fourfold combination of art, science, culture and spirituality. Artistically mesmerizing, scientifically stunning, culturally moving, and spiritually elevating, the exhibitions create amazing environments capable of transporting viewers to ancient India. A balanced fusion of ancient values and wisdom and the best of modern media and technology, the exhibitions provide a powerful, soul-stirring experience of Hindu heritage and universal values. The three halls are: Sahajanand Darshan – Hall of Values (picture above); Neelkanth Darshan – Large Format Film (picture below); Sanskruti Darshan – Cultural Boat Ride.

We didn't have time to see the film/movie about Bhagwan Swaminarayan's (1781- 1830) life, but we were able to see the other 2 exhibitions. We went to see the robot story telling (in English) about Bhagwan Swaminarayan's (1781- 1830) life in the Hall of Values before the water show. Those robots were so vivid that my mom even asked me if they were real. After the water show, we had dinner at the food court (on the left-hand side of the main temple /mandir), then we took the Cultural Boat Ride (picture below) around 7:45pm.

If you are willing to see all the stuff including the 3 exhibitions and water show, it is best to arrive around 1-2pm and then spend 4-5 hours inside the temple. If you are not willing to visit these, then I would suggest you come by around 5pm in the evening and get your time well spent to see the main temple /mandir and the water show. The food court has very reasonable price. Water and Wing run out of cash, so I paid for 4 people, total is 555 INR including 3 mango shakes. Normally a typical New Delhi tour doesn't include a visit to the Akshardham Temple, but it definitely worth a visit. Wing said it is a huge religion theme park, which I agree. I especially liked the night at the Akshardham Temple, it was quite and beautiful. I wished that I would have more time to enjoy the peaceful Atmosphere there at the night with my loved ones.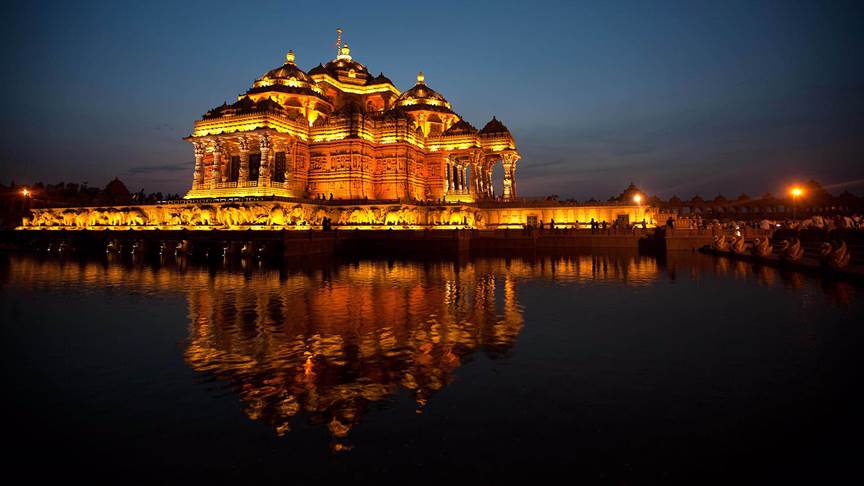 When we left the Akshardham Temple, it was already 8:30pm. Our driver dropped Water and Wing to the hotel. Tomorrow they would have a movie and shopping day before they flew back to Shanghai, China. The driver then dropped my mom and me at the airport for our early morning flight back to Beijing, since we booked business class I canceled the hotel for that night. If you draw a straight line between New Delhi and Beijing, you will notice the line crosses the Himalayas, but the direct flight between these 2 cities didn't go over the Himalayas but went around it from the Vietnam side. The picture below was taken by my mom from the airplane.
Posted by Jia Qi